HomeCrafters Returns Home to Caughlin Ranch with Pine Bluff Development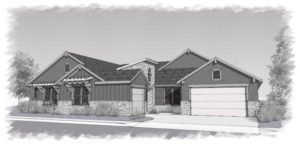 A beautiful, new housing development is coming to Caughlin Ranch. HomeCrafters returns to the neighborhood after 12 years with a new community called Pine Bluff, located in the heart of Caughlin Ranch, and nestled in the foothills between Evergreen, Seasons and Eaglesnest.
The site is 26+ acres and will feature 43 modern, semi-custom homes on lots that are approximately 1/3 acre and above. There will be three single story floor plans that will range from 2,854 square feet to 3,516 square feet, and two daylight basement floor plans that will range from 3,989 square feet to 4,316 square feet.
HomeCrafters is celebrating its 20th year in business, and is led by brothers Troy and Travis Means. Their company grew up in Caughlin Ranch having built the Pinehaven neighborhood and several custom homes in the Eaglesnest, Castle Ridge, Mountainshyre and Whispering Pine neighborhoods.
Troy and Travis's fondness of Caughlin Ranch started years before the actual development of the community as they grew up on a neighboring Plateau Road. As children, they would spend their summers exploring what is now Caughlin Ranch. Their father, Alan Means, was co-developer for the Caughlin Ranch master plan, and also had a home building company called Caughlin Crafted Homes, that built several neighborhoods in the Ranch. Troy and Travis started their careers working various jobs in Caughlin Ranch, such as with the maintenance and construction crews during their high school and college summers.
"With Pine Bluff, we wanted to introduce a neighborhood that has a modern feel, yet fit within the Caughlin Ranch lifestyle," said Troy Means, co-owner, HomeCrafters. "Pine Bluff will be on one of the last remaining parcels of land in the Caughlin Ranch area. It is very special for us to be able to build in a community where Travis and I grew up."
Dickson Realty has been the real estate company for Caughlin Ranch since its inception, and currently sells more than 60 percent of the real estate in Caughlin Ranch, Juniper Hills and Juniper Ridge. HomeCrafters and Dickson Realty conducted focus groups prior to starting the Pine Bluff project, to gauge interest and obtain feedback on the community.
"From the feedback we received, we validated that there was a basis for demand in the area," said Means. "There haven't been any new neighborhoods built in Caughlin Ranch since the early 2000s. We gained valuable insight on what current homebuyers are looking for and the desirable features to be offered in these homes."
"The HomeCrafters team is always on the cutting edge of the latest trends," said Nancy Fennell, president, Dickson Realty. "Their philosophy is centered around the northern Nevada lifestyle – surrounded by nature, being family-friendly and enjoying all of the outdoors. They have people that follow them from one project to another, which is rare in the world of homebuilding. It is special for those of us who have been involved in Caughlin Ranch since the first stick was placed in the ground for development."
Pine Bluff home prices are expected to start in the $700K's. The award-winning firm, Jerry Gloss & KGA Studios from Boulder, Colo, is designing the homes. The firm worked with Caughlin Crafted Homes during the Ranch's early beginnings.
The exteriors of the homes will consist of three different architectural styles featuring Tahoe Ranch, Mountain Rustic and Modern Mountain. Interior layouts will feature open floor plans and will offer several flex space options such as morning hearth rooms off the kitchen, back offices off the kitchen, multi-generational suites, kids' private bonus rooms and more. Buyers will be able to choose from either a modern finish or one that is more traditional.
HomeCrafters has started the pre-sale process and anticipates starting mass grading and infrastructure this summer, with home construction beginning late fall. The first several homes will be completed in summer 2017. For more information about Pine Bluff, please visit pinebluffreno.com or contact Larissa Osborne with Dickson Realty at 775.848.6579.